Interlocking retaining wall blocks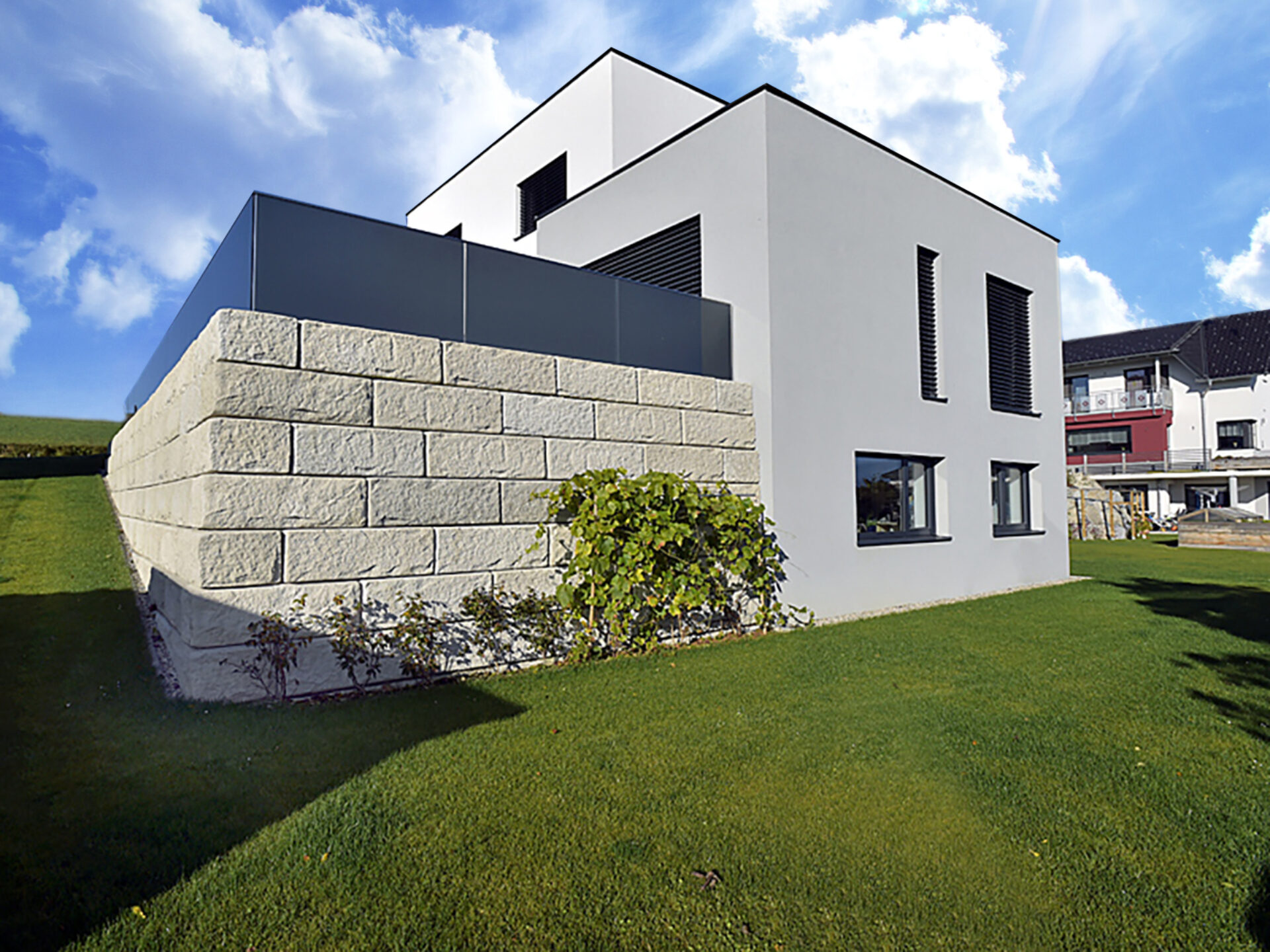 With a time-tested, proven precast block system and CBS Beton ReCon Walls retaining wall team, we aim to provide exceptional solutions that are functional, tactical, aesthetically pleasing, creating long-term value to your retaining wall project.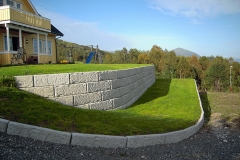 Interlocking Gravity Retaining Wall Blocks

ReCon Walls Retaining Wall Blocks represent the workhorse of the product offering. The Full Block has face dimensions of 40 cm X 120 cm and range from a depth of 60 cm to 213 cm, with resulting weights ranging from 635 kg to 1860 kg.

Custom depths up to 304 cm can be produced. ReCon Walls also offers an array of complimentary block shapes and sizes, including Half Block, Corner Blocks, Tops and Caps. Shown in the LeSueur County texture.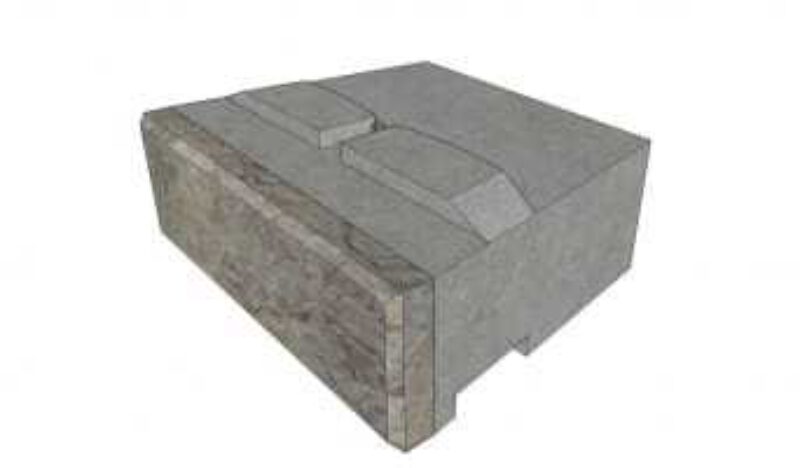 Full Middle Block
Groove on the bottom and tongue on the top. Provides for alignment of the blocks and the standard 2,54 cm setback / 3.6ᵒ batter.
As shown: 40 cm H x 120 cm W x 100 cm D and 998 kg.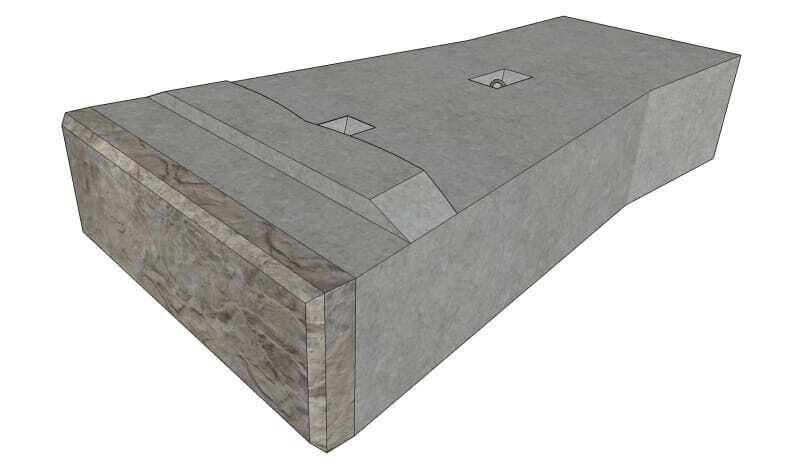 Full Base Block
No groove on the bottom, provides large bearing surface area. No hole in the block, keeps drainage chimney behind the wall and NOT directly on top of the leveling pad.

As shown: 40 cm H x 120 cm W x 213 cm D and 1880 kg.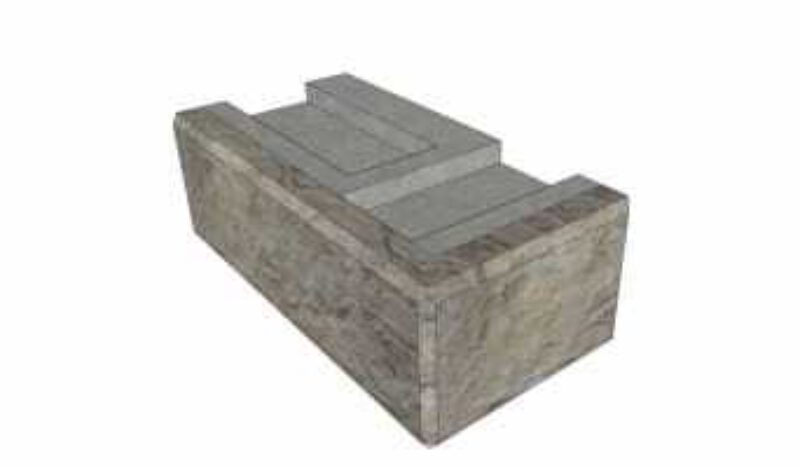 Reversible Corner Block
Used for Outside 90° Corners.
As shown: 40 cm H x 120 cm W x 60 cm D and 365 kg.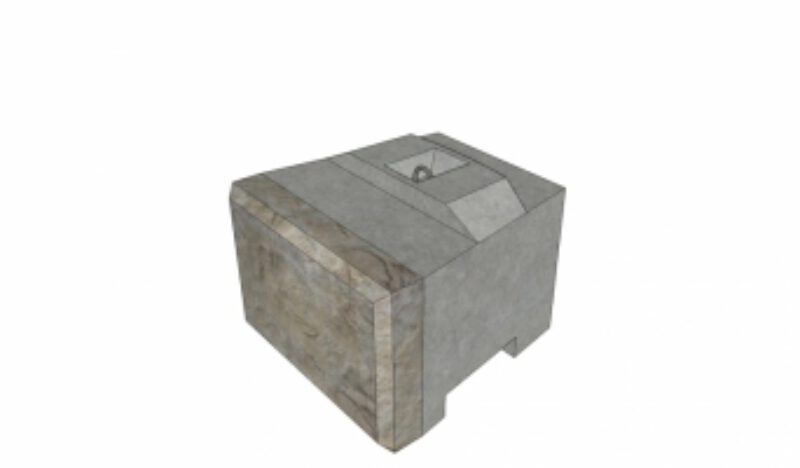 Half Middle Block
Useful for establishing running bond coming off an abutment.
As shown: 40 cm H x 60 cm W x 60 cm D and 302 kg.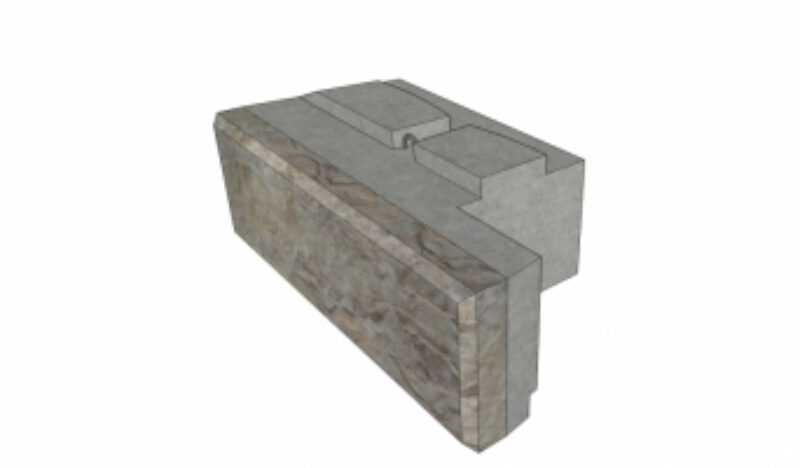 Fitting Block
Unique to ReCon, saves cutting time for contractors when a block needs to be trimmed.
As shown: 40 cm H x 120 cm W x 60 cm D and 551 kg.
Top Of Retaining Wall Options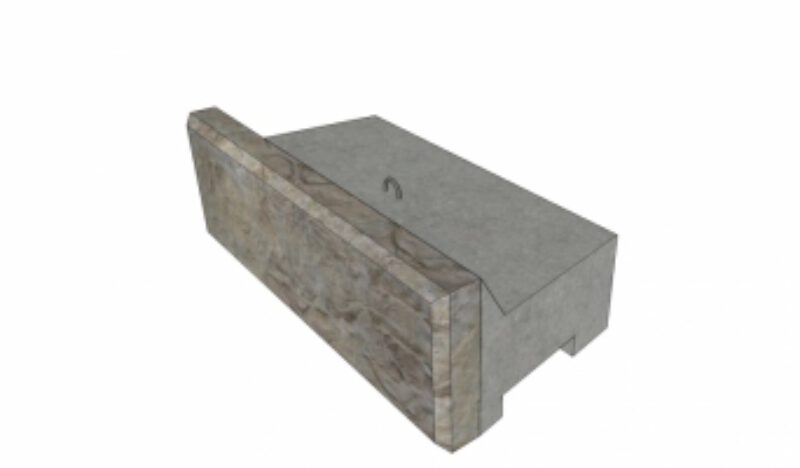 Top Block
The most universal and affordable top of wall finish. The blocks are tapered, so no cutting for curved walls. Great for mounting pedestrian railings, using the 39" Top Block.
As shown: 40 cm H x 120 cm W x 60 cm D and 446 kg.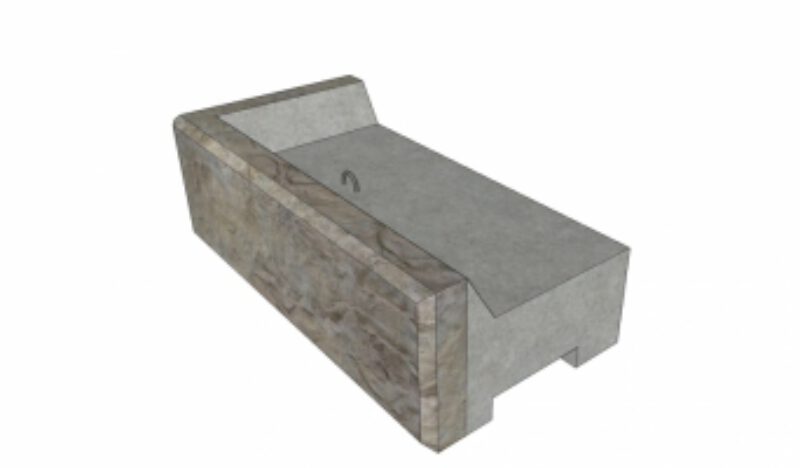 Corner Top Block
Used at "step downs" in the top of the wall. Comes in Left and Right Corner Options.
As shown: 40 cm H x 120 cm W x 60 cm D and 500 kg.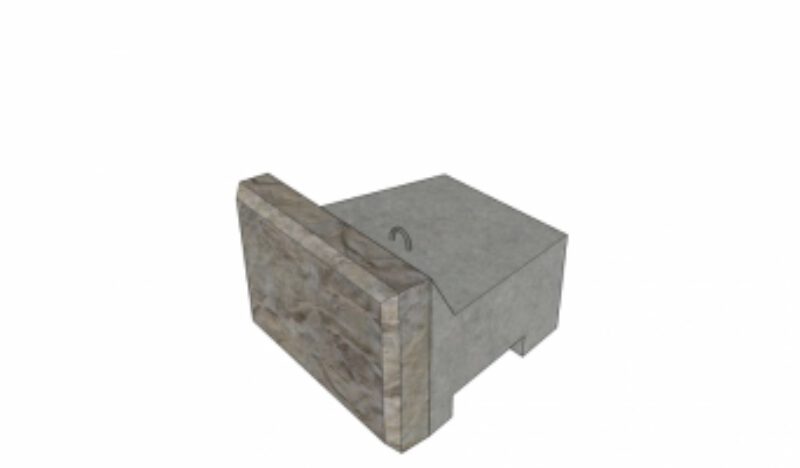 Half Top Block
Just in case it is needed!
As shown: 40 cm H x 60 cm W x 60 cm D and 212 kg.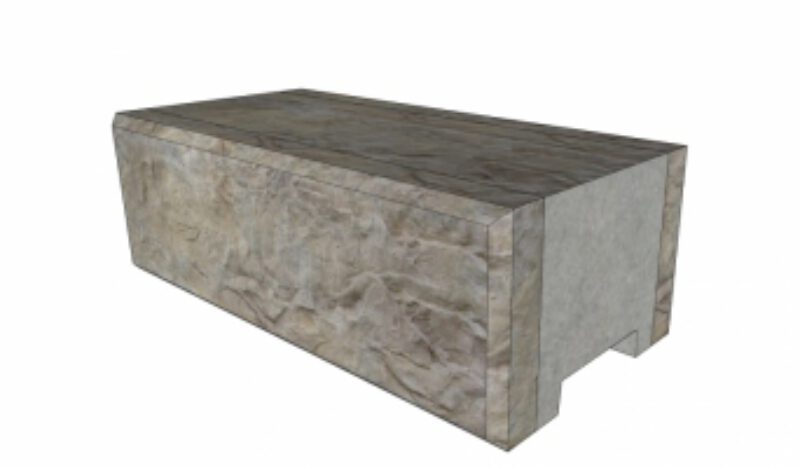 Full High Cap
Great when the design calls for exposed block on the back side of the retaining wall. Texture on the front, back, and top. Also available with texture on one end.
As shown: 40 cm H x 120 cm W x 60cm D and 658 kg.
Textures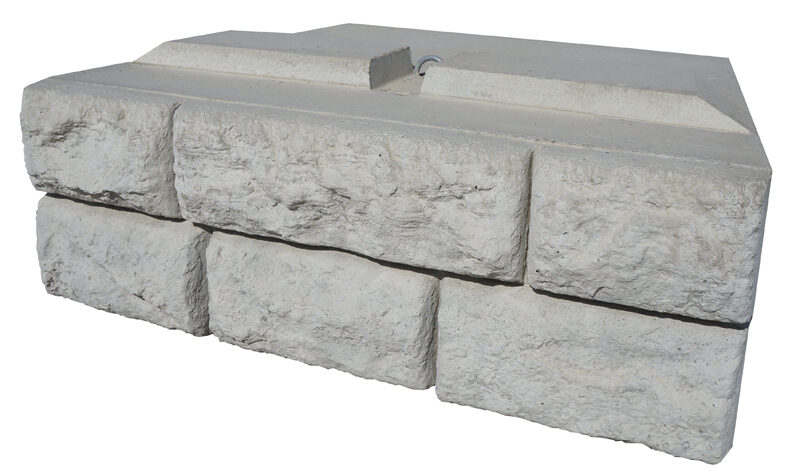 Rustic
Rustic care with its natural grey concrete finish for an amazing-looking retaining wall. Each element is subdivided into individual stones on the visible side, in sizes ranging from 20 cm to 65 cm. This, combined with different variants, creates a natural and random pattern.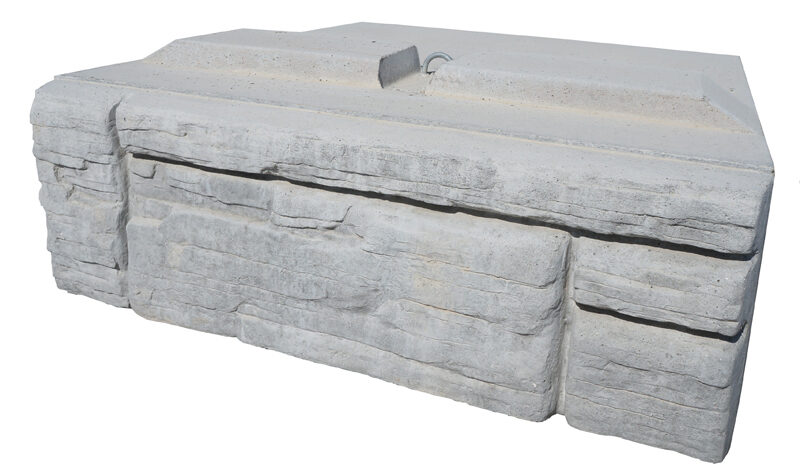 Weathered Edge
Weathered Edge creates the natural feel of a rock face with a weathered structure. Each element is subdivided on the visible side into individual stones whose sizes vary from 8 cm to 40 cm in height and 23 cm to 100 cm in width. This, combined with different variants, creates a natural and random pattern.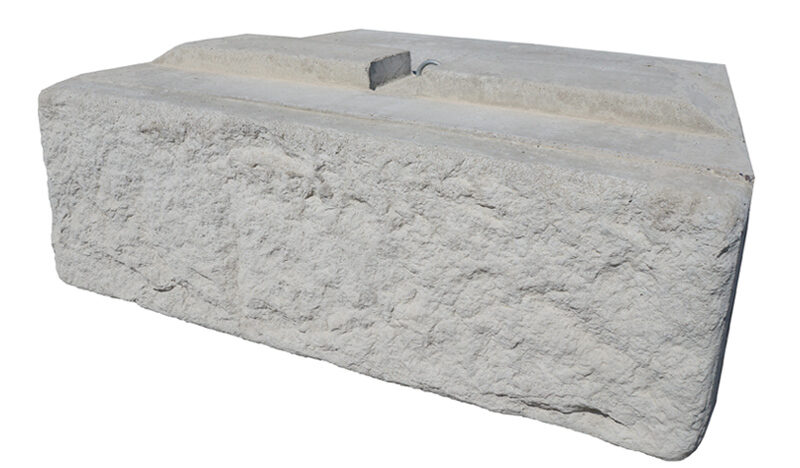 The Northshore Granite
Granite is perhaps the most famous natural stone on earth. Although the colour can vary greatly, the texture remains consistent. The look of granite is almost indistinguishable from weathered natural stone.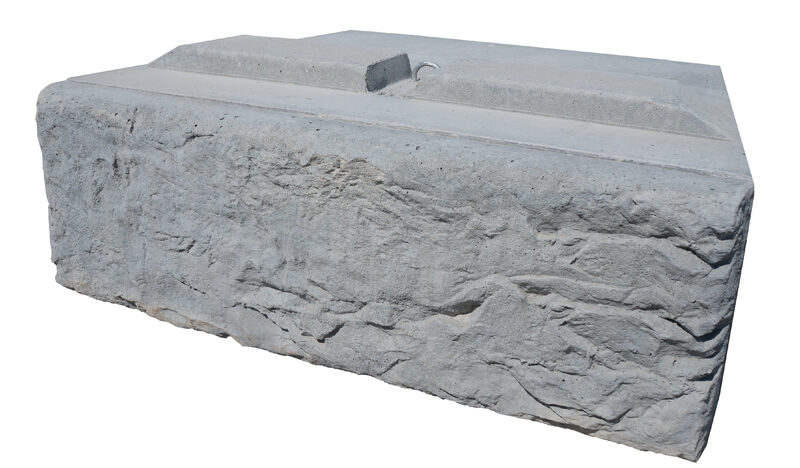 LeSueur County Limestone
LeSueur County limestone owes its name to the natural limestone found on the banks of the Minnesota River, it is also found throughout Europe.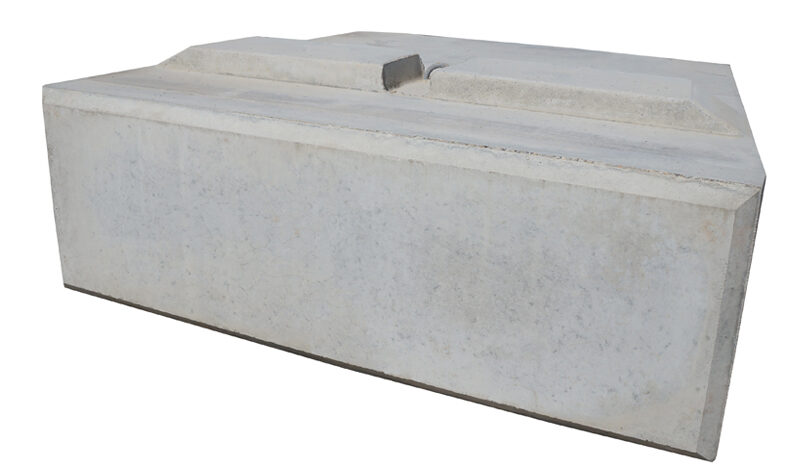 Old World
Old World is a smooth retaining wall block with bevelled edges. This structure can be used to replicate a vintage industrial feel or in a contemporary setting where clean, straight lines are desired.
Staining
There is a range of staining products that can be used to stain a concrete surface. These range from water born concrete stains, acid etch stains, and hybrids products that combine features of both.
Water born stains are easy to apply and environmentally friendly. They come is a very wide range of colors (from light tans to deep brown, gray, charcoal and even black). Variation in the color of the wall can be achieved by applying multiple highlights after the base coat has been applied.
Acid etch stains require an additional degree of care and skill to properly apply. Acid etch stains create deep colors (usually dark browns and rusts) and a natural variation in the color which adds to the authenticity of the finished wall appearance.
ReCon Walls specification covers only the water born products. For additional information on acid etch stains and hybrid stains, please contact ReCon Walls.